Three Pillars of Professional Competence
© Oles Dmytrenko, 2020

During my managerial training in Berlin* I was impressed by one of the formulations, "Fit for Partnership with Germany." The keyword was "fit." In other words, in order to do business with this country, I had to "fit" certain criteria, meet particular requirements, comply with specific norms and principles. I had to understand their business culture in order to "fit."

As I worked with various countries (Norway, Canada, USA, Vietnam, and other) I found pleasure in dealing with a certain type of people. I define them as "highly competent". Skin color, location, gender, age - had nothing to do with the definition.

What did all of them have in common? Why did I feel so good working with them?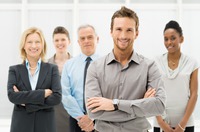 I noticed the three components of their professional competence:
Master;
Manager;
Communicator.
Of course, this three-dimensional model is simplified, as you may add such criteria as motivation, passion, capacity, ability, discipline, integrity, responsibility, kindness — an endless list of characteristics.
However, I highlight the three here, insisting on their synergy. Let me explain why.
Michael is a great master. He knows "what" should be done and "how" in order to produce a masterpiece. He is also a great manager, able to organize his work very well. Unfortunately, there is one problem: his communication is poor. Because of that part missing he constantly faces problems with his clients, colleagues, stakeholders. It's difficult for him to advance his career simply because nobody knows he's got the talent.

Jake is a good master and communicates very well. His customers respond positively. However, organizing the work is his weakness. He doesn't keep track of time; he doesn't care about the "workflow", organizing or optimizing processes. As a result, he has piles of unfinished tasks and doesn't meet deadlines. Sooner or later that "little thing" kills his reputation, and nobody wants to work with him again.

Samantha has a gift of administration; she puts things in order very well, and she is a great communicator, too. But she can't produce a masterpiece. She simply does what others do. Something is missing in her competence, as well.
What if Michael, Jake and Samantha had the synergy of all the three components? Would they succeed more and be more competitive in the market? I think so. Would they be better co-workers or leaders? Yes.
In my practice, I ask myself regularly: which of the three components requires my extra attention to be competent?
© Oles Dmytrenko, 2020
_____
* Academy for International Economic Relations, Education Center at Mugelzee, Berlin, Germany.
Localizer.Pro: Leading Ukrainian Language Service Provider. Excellence in European and other languages.